friday sept 29th OMG we are realllllllly scared now,,,ok!!!we
quit smoking marlboros
(as pr doctor)
this jan 1st 2006 andit is NOW sept 29 2006 and we broke down and bought BEER & a marlboros 4 the both of us!!!!!!!!Because guess what????---- TODAY EVERYTHING WE DID---GOT SCREWED UP=CANT GET INTO ALL THE DETAILS-way too many DETAILS...trust.
im drinking now ,a beer,
I felt strong enuff & heathly to go help kelly 2.day w/cleaning patsy's house(5 thousand square ft home) *my contribution would make a 4.5 hour job down to a 2.5 hour job,,pay is the same no matter how long it takes, kelly has this system and it is a art,,most people would not know where to begin. its aHuge house.
I have been helping her(kelly) over years at patsys house,,patsy is a surrogate mother to the both of us and has her hooks in us BIGTIME. shes 70 and independant as helll BUT she needs us and we need her,
itsaLOVE/HATErelationship and i could write about allllll day,,,,, cant for now.
have lots of pictures taken out at patsys,,look...........
http://www.flickr.com/photos/debrabmaddox/sets/72157594305146493/
still working on this post,,but ihave to go outside and drink my beer, and try a ciggy ..(heheh.evil laugh)
OMG we ARE SUCH DORKS WE Have classsical.mozart the marriageoffigaro-Holst-theplanesVenus,thebriggerofpeace music cranked UP really loud and drinking budwiser and smoking to fantasia para un gentilhombre guitar & orchestras RODRIGO=Xellent hAVE u EVER reallY LISTENED TO BEETHOVENSYMPHONY#6fMAJOR-LIKE I KNOW WHAT DIFF THAT MAKES,,BUT IM TELLING U THIS MUSIC IS FLUIDART AND WHEW What dramatic music wheweresmyreer ..OHNO,IMGEETING HJUST A LIITTLE.typsy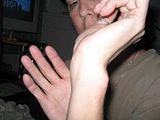 GOD we r rebeloius tonite! "why???' is the question.
the answer is bad,, it seems bad NOW anyhow.
we are going thru so much change that now- everything seems so unreal that im still not sure im JUST dreaming. please tell me im just dreaming and i dont have ra,,pleasse tell me that....
ive come back to my senses now,,i smoked a few cigs and drank ONE beer, and felt drunk,but wegot the munchies an baked nachos and after i ate i was then JUST TIRED,,this day sucked i wish i could just type everything that happend, but why - its not goonna change anything, im wasting my time,i swear,life is just a kick in the ass & i NEVER used to feel this way
the ra is like starting to really make itself knwn now,k,always and that is forcing me to loook at my health iu am scared, i havent taken Metho injections- four weeks now, the last time my doctor (on the phone) sd dont take it unitlli get stable,i am loosing weight still and i asked kelly if im in my last days of my life now?
i feel like i am ,,
DAMN! rippedoff bad,,never even got my "firm.foundation"
*foundation = stability and security*