i am feeling better today, then even yesterday, this is the 2nd morning that the pain has not been so unbearable -spelling sux! who cares/ i feel like im on the road to recovery now!
i am JUST starting this post i have NO IDEA how to work this blog,,infact,,i used to tease people for blogging -just the name "blogging "irritates me,, i call it" logging",,less iratating. want to post this then test the editing then get going on transferring all my history-log from myspace " itskellyanddeb" to here......
can i add picture here-> no cant copy/paste,, what about html? try now: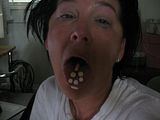 done! easy!