things going on today..
Obama said to Muslim World " I AM ONE OF YOU" in Aramaic
Yahoo News:'Invisible UFOs' Fill the Skies
*
GOLD turns invisible!!!
That is why GOLD is so highly valued to the "gods"
and is mentioned in the bible as belonging to "GOD"
Anonymous Coward (
OP
)
User ID: 19715730
United States
07/18/2012 11:52 AM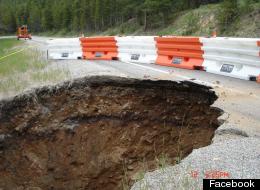 The giant sinkhole that opened up alongside Highway 24 near the top of Tennessee Pass on Monday continues to grow. As of Thursday afternoon it had grown to 30 feet by 30 feet and remains 100 feet deep.
On Facebook,
CDOT posted some new photos
and said they are working on figuring out a plan of action:
Our crews have been working hard on finding a repair solution and we will let you know as soon as one has been found!
CDOT estimates that the repairs to US-24 to take a little over a month
and is prepared to offer financial incentives to the right contractor
to encourage them to complete the job ahead of schedule
. USA Pro Cycling Challenge is expected to pass through the area in about a month and CDOT is hoping to have the project completed before the race. Costs are estimated
between $1 and $2 million
.
According to
the Colorado Department of Transportation
, pieces of asphalt from the highway have started to crumble and fall into it.
CDOT also issued a statement on Thursday saying that
the "sinkhole" isn't really a sinkhole at all
, rather it's just a hole caused by the soil giving way above an abandoned railroad tunnel.
After several engineers, maintenance supervisors and geological experts examined the sinkhole on Monday, it was determined that it is
actually a century-old railroad tunnel that collapsed decades ago
, CDOT said in a press release.
CDOT is also working with
state historians and is referencing archival materials
to build a full history of the tunnel and roadway.
The depth of the hole is estimated to be about 100 feet, and since the depths reach so far into the earth, much of the soil was still frozen until very recently -- when the soil thawed, the hole was exposed.
(SCROLL DOWN FOR SLIDESHOW)
7News spoke with Rex Goodrich, a CDOT engineer
who explained why engineers decided it was safer to shut the highway down completely. "It's the unknown. Twenty feet away, there could be another hole like this ready to break through,"
Goodrich said to 7News
.
The collapsed tunnel was reportedly once part of the old Denver and Rio Grande Western's Tennessee Pass Route. It was constructed as part of
the Royal Gorge Railroad route
in the 1880s,
The Denver Post reports
.
According to
9News
, Union Pacific now owns it and said
the tunnel has been abandoned since the 1950s
.
All of US-24 is not closed between Red Cliff and Leadville, however it is closed at the section near the sinkhole from mile marker 166 to 162. Crews remain on-site to enforce the closure 24 hours a day, seven days a week. Access to all local roads and businesses remain open. CDOT is recommending using
State Highway 91 as an alternative route
.
The Colorado Department of Transportation (CDOT)
posted photos of the giant sinkhole on their Facebook page
.
LOOK: Giant sinkhole alongside US-24 near Leadville, via CDOT: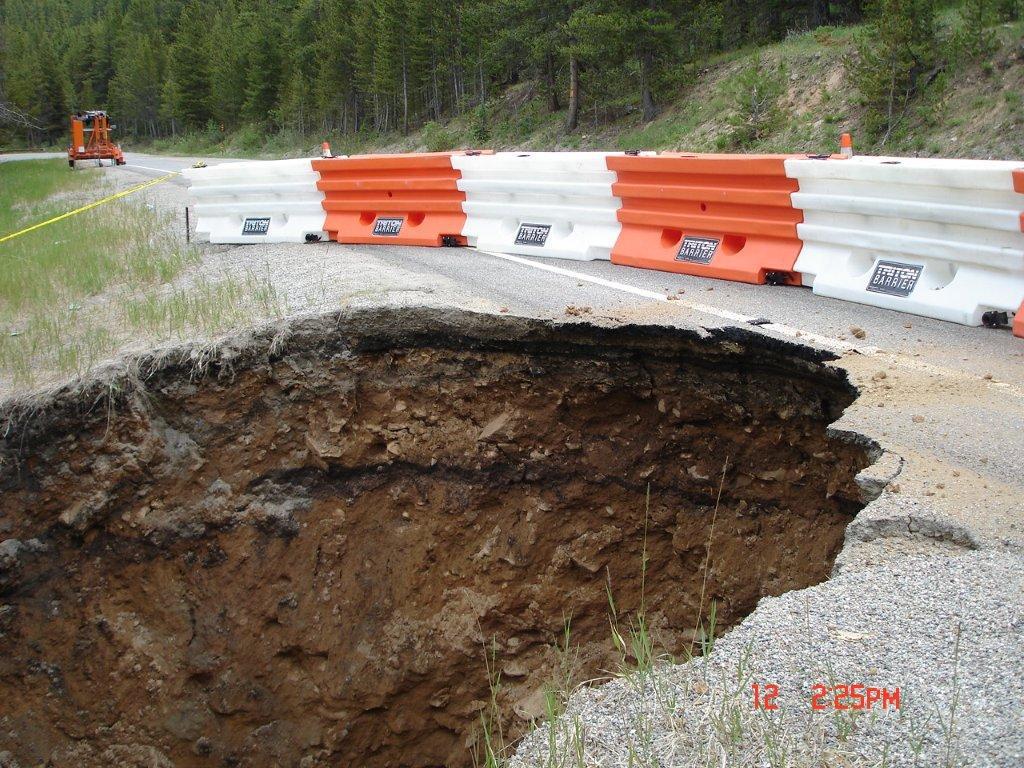 Additional photos of the US-24 sinkhole and more giant sinkholes from around the world:
Loading Slideshow
Via CDOT Facebook: "Here is a photo from one of our engineers, Stuart Gardner, who was working on US 24. Hopefully this gives everybody a bit of an idea what we're dealing with up there!"


Via CDOT Facebook: "US 24 Update: The "sinkhole" (which is really just a hole) is growing. It is now roughly 30 feet by 30 feet and 100 feet deep. Pieces of asphalt from the highway have begun to crumble and fall into it. Our crews have been working hard on finding a repair solution and we will let you know as soon as one has been found!"


US 24 is now closed to all traffic north of Leadville at mile marker 165 (south of Red Cliff) due to the sinkhole. Motorists should use State Highway 91 as an alternative route, as there is no estimated time of reopening. Here's another view of the sinkhole, looking down. Via Colorado Department of Transportation Facebook page.


US 24 is now closed to all traffic north of Leadville at mile marker 165 (south of Red Cliff) due to the sinkhole. Here is a photo of the sinkhole that opened up earlier today as a result of heavy rain in the area. Crews are on site and still assessing the extent of the damage. Via Colorado Department of Transportation Facebook page.


A car sits in a giant sinkhole in Duluth, Minn. Wednesday, June 20, 2011. Residents evacuated their homes and animals escaped from pens at a zoo as floods fed by a steady torrential downpour struck northeastern Minnesota, inundating the city of Duluth, officials said Wednesday. (AP Photo/The Star Tribune, Brian Peterson) MANDATORY CREDIT; ST. PAUL PIONEER PRESS OUT; MAGS OUT; TWIN CITIES TV OUT


A car fell into a huge sinkhole in Duluth, Minn. on Wednesday, June 20, 2012. Duluth Mayor Don Ness said he would declare a state of emergency after the deluge of up to 9 inches of rain that he said caused extensive damage to the port city of about 86,000. Ness said the order would start the process to obtain federal aid. Gov. Mark Dayton said he would travel to Duluth on Thursday to discuss how the state can help. (AP Photo/The Duluth News-Tribune, Bob King)


In this photo released by China's Xinhua News Agency, villagers walk past a sinkhole in Tanluo Village of Nanning City, south China's Guangxi Zhuang Autonomous Region, Saturday, June 2, 2012. More than 800 villagers have been evacuated after land sank in the province Friday, which is known for its karst topography. (AP Photo/Xinhua, Zhou Hua) NO SALES


A home sits near a sinkhole, about 100-feet wide and 50-feet deep, Saturday, May 5, 2012, in Windermere, Fla. The family was forced to evacuate the home. (AP Photo/John Raoux)


In a Thursday, Dec. 8, 2011 photo, a gaping sinkhole has opened in the bottom of a pool at the home of Brad Thelen in Erwin, Tenn., draining the family's swimming pool. Thelen said the noise of the sinkhole opening under the in-ground pool awakened his wife Chemene on Wednesday night, according to The Johnson City Press. By Thursday evening, it had tripled in size and was not far from the Thelans' home. The family removed valuables and was staying with relatives until the sinkhole stabilized. (AP Photo/Johnson City Press, Tony Duncan) MANDATORY CREDIT


A man inspectas a sinkhole formed in a h

A man inspectas a sinkhole formed in a house on July 19, 2011 in the north of Guatemala City. When neighbors heard the loud boom overnight they thought a cooking gas canister had detonated. Instead they found a deep sinkhole the size of a large pot inside a home in a neighborhood just north of Guatemala City. The sinkhole was 12.2 meters (40 feet) deep and 80 centimeters (32 inches) in diameter, an AFP journalist who visited the site reported. Police, members of the country's natural disaster office and water utility company officials came to visit the site. Sinkholes, formed by the natural process of erosion, can be gradual but are often sudden. Guatemala City, built on volcanic deposits, is especially prone to sinkholes, often blamed on a leaky sewer system or on heavy rain. AFP PHOTO / Johan ORDONEZ (Photo credit should read JOHAN ORDONEZ/AFP/Getty Images)


A man inspects a sinkhole inside a hous

A man inspects a sinkhole inside a house on July 19, 2011 north of Guatemala City. When neighbors heard the loud boom overnight they thought a cooking gas canister had detonated. Instead they found a deep sinkhole the size of a large pot inside a home in a neighborhood just north of Guatemala City. The sinkhole was 12.2 meters (40 feet) deep and 80 centimeters (32 inches) in diameter, an AFP journalist who visited the site reported. Police, members of the country's natural disaster office and water utility company officials came to visit the site. Sinkholes, formed by the natural process of erosion, can be gradual but are often sudden. Guatemala City, built on volcanic deposits, is especially prone to sinkholes, often blamed on a leaky sewer system or on heavy rain. AFP PHOTO / Johan ORDONEZ (Photo credit should read JOHAN ORDONEZ/AFP/Getty Images)


Workers use excavators to fill in a sink

Workers use excavators to fill in a sinkhole which occured overnight on Shiliuzhuang road, in Beijing on April 26, 2011. A section of the road collapsed beneath a truck, slightly injuring the driver and a passenger, who both jumped out the vehicle beforeit sank into the hole, as an authoritiy suspects the hole was caused by the construction of a subway line. CHINA OUT AFP PHOTO (Photo credit should read STR/AFP/Getty Images)


A truck lies in a sinkhole which occured

A truck lies in a sinkhole which occured overnight on Shiliuzhuang road, in Beijing on April 26, 2011. A section of the road collapsed beneath a truck, slightly injuring the driver and a passenger, who both jumped out the vehicle beforeit sank into the hole, as an authoritiy suspects the hole was caused by the construction of a subway line. CHINA OUT AFP PHOTO (Photo credit should read STR/AFP/Getty Images)


Sink Hole Swallows Car In Chevy Chase, Maryland

CHEVY CHASE, MD - DECEMBER 3: A car sits in a sinkhole caused by a broken water main, which collapsed part of Friendship Blvd. on December 3, 2010 in Chevy Chase, Maryland. No one was reported injured in the accident. (Photo by Logan Mock-Bunting/Getty Images)


Fire Truck Trapped In Giant Sinkhole

LOS ANGELES, CA - SEPTEMBER 8: A 22-ton Los Angeles Fire Department fire truck protrudes from a sinkhole on September 8, 2009 in the Valley Village neighborhood of Los Angeles, California. Firefighters were dispatched to investigate an early morning call about flooding on a residential street when the driver saw a large amount of water in the darkness. The driver was backing up when the truck fell into the sinkhole, apparently caused by a broken 6-inch cast iron pipe. The firefighters were not hurt in the accident. Officials have not yet determined if the break is related to a broken 95-year-old 64-inch pipe in neighboring Studio city. (Photo by David McNew/Getty Images)


TO GO WITH AFP STORY BY JOSEPH KRAUSS A

TO GO WITH AFP STORY BY JOSEPH KRAUSS A sinkhole caused by the opening of cavernous is seen near the Ein Gedi Spa on the shores of the Dead Sea on September 10, 2008. As Israeli holidaymakers watch the Dead Sea retreating, leaving massive sinkholes in its wake, Palestinian farmers farther up the valley pry crops from increasingly parched soil. The Jordan Valley is in the grip of a severe water crisis, exacerbated by the region's various conflicts, that threatens the livelihoods of its Israeli and Arab residents. And it is transforming the landscape before their eyes. AFP PHOTO/JONATHAN NACKSTRAND (Photo credit should read JONATHAN NACKSTRAND/AFP/Getty Images)


Landslide Creates Large Sinkhole Near San Diego

LA JOLLA, CA - OCTOBER 3: A massive 200' x 240' landslide opens up and tears apart the pavement of Soledad Mountain Road, October 3, 2007 in the Mount Soledad neighborhood of La Jolla near San Diego, California. The landslide has damaged or destroyed reportedly 6 homes and forced the evacuation of at least 20 others. (Photo by Kent Horner/Getty Images)


Landslide Creates Large Sinkhole Near San Diego

LA JOLLA, CA - OCTOBER 3: A massive, approximately 200' x 240', sinkhole opens up and tears apart the pavement of Soledad Mountain Road, October 3, 2007 in the Mount Soledad neighborhood of La Jolla near San Diego, California. The landslide has damaged or destroyed reportedly 6 homes and forced the evacuation of at least 20 others. (Photo by Kent Horner/Getty Images)